Revisit: White is a metaphor for power
https://s00156364.wordpress.com/2017/10/08/white-is-a-metaphor-for-power-james-baldwin/
I wrote a post a couple of years ago about James Baldwin, and White is a Metaphor for Power.
The main push for equal rights for ALL MEN and WOMEN in America was during the civil rights movement of the 1960's. African American people were treated badly before then to say the least. But now, over 50 years later, what has changed?
It is worse now to be African American, and American in general than ever before in the past. The violence shown to African American people and the prejudice against them has never before been so bad, and that includes the times of the KKK. When the KKK were most prominent, it was after the abolitionist movement and the civil war. Primarily though, the violence then was contained in the southern states. Now it is all over. The violence back then was somewhat primitive. Now, there are all manner of weapons being used, and more African Americans are being killed.
Being any other shade or colour than white in America now, brings fear, insecurity, and anticipated need for recording and retaliation. I have heard men say that when being pulled over, they stop under the brightest street light, so the camera in their car, on their phone, or wherever else can capture the whole thing, in anticipation that they are going to be discriminated against and even violently treated by law enforcement officers.
People are out protesting against this treatment, and what do you think a response should be from the leaders? Certainly not put law enforcement and army and others against them. People should be able to protest peacefully, but they are angry. Rightfully so. Some are so incensed by this treatment, that the protesters themselves get loud and even violent towards those who have caused the problems. The Law enforcement officers need to stand back where the protests are peaceful, and not interfere. I applaud the officers who have knelt with protesters in solidarity with their cause.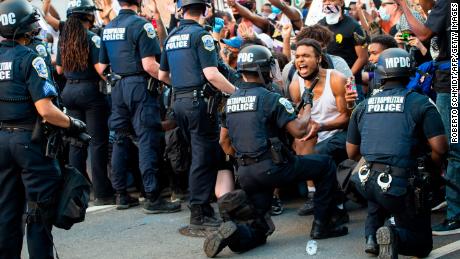 Lets talk about international conflicts just for a minute. When there is a dispute between two civilized countries, the first step is diplomacy. The next step is sanctions  economical, social and political. It takes a lot of steps before one country feels that the only way to resolve the issue is by violence.
This is not the case internally in the United States. When the first sign of trouble came, the leaders sent the riot squads in, then the army, and now i see there are even people who are without insignia or identification on their uniforms standing against civilians and citizens of the country.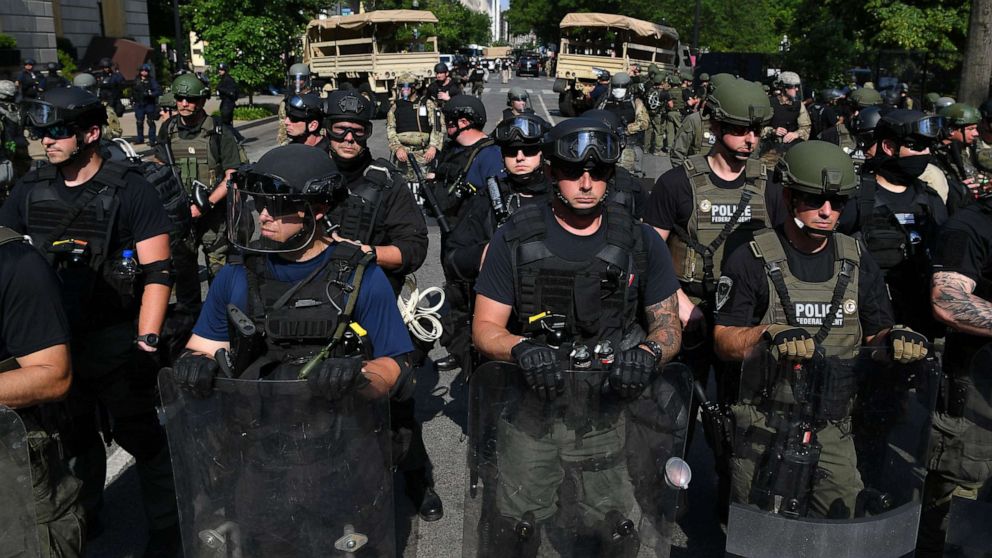 The actions of the President and other leaders is deplorable. I saw a contrast of two pictures earlier today. One where President Obama has his sleeves rolled up and is walking with protesters. The other of President Trump, walking alone with riot squad soldiers on either side of him while he goes to a church, not to pray but to get photos taken. You can make your own conclusions.
What is going to appease the people in this time of crisis? A change in policies and practices of those who have caused such a problem. A public apology from those who are in positions that can change this systemic problem. Not confrontation with violent armed "enemy".
Now I must talk to the leaders of the protesters. You need to talk diplomatically with the leaders of the police, and if possible, the President. You need to show leadership to save the ones you lead from further harm against people who don't seem to have any compassion.
I must address the problem of looting. Looting from private citizens, store owners, or publicly listed companies does nothing but hurt your cause. Looters are not part of your protest against injustice, they are opportunistic criminals, who take advantage of the mayhem for personal gain. They do nothing to promote the cause or address the injustice. I don't expect anyone to turn them in to the police. That would be just stupid, giving up people to be subject to the anticipated abuses. I do however, expect the leaders of the protesters to deal harshly with those who seek personal advantage, stealing and destroying non-public property using your protests as a smokescreen.
Again, like my original post on James Baldwin, Malcolm X and Martin Luther King jnr, I tell you I have regrets about my skin colour and what it represents. The narrative needs to be changed. White should not be and never be a metaphor for power. With your current leadership in that country, I say good luck.
But come November you have a choice.  Please choose to exercise your democratic right to vote. Voting is your voice to the leadership that you will not tolerate things as they are.