I am the greatest Mayor of all time. I want to make this city great again. We will build a wall around the city to keep out criminals. I am the most popular mayor of all time. There's no-one more popular. Look I could stand in the middle of the street and shoot someone, and people would still elect me, that's how popular I am.
And so, the hubris went on. People actually believed the stuff that spewed from his mouth. Until, that is, his batteries started failing and one of his strings broke.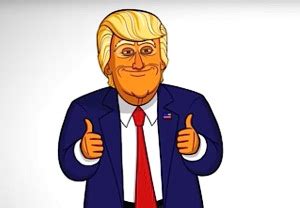 thanks to Sammi Scribbles for the inspiration.